Local SEO Hack: How to increase your organic traffic by a minimum of 25%
Close to 30% of all searches include local pack listings. There are fewer competitors in local search making optimizations not nearly as challenging as broader categories. If your business serves a well-defined geographic location, optimizing for local search is key to generating massive organic and free traffic.
What is local pack SEO?
The Local Pack is a feature that appears on the first page of results for any search query with local intent. It features a map of business locations along with listings for three businesses relevant to a particular search.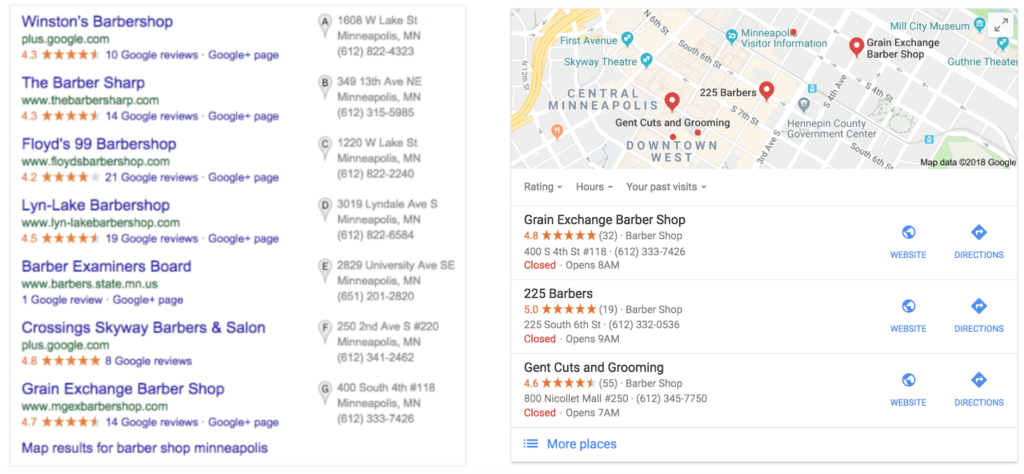 The image on the left shows the way local packs used to be displayed; showing all relevant business. The image on the right is the new way Google displays searches opting for a map and selecting a few businesses.
The list of businesses includes their NAP data, review rate, office hours, and call button. All of these elements need to be properly optimized in order to rank.
If those elements aren't present or aren't properly optimized they can disappear from the block completely.
How do you optimize for the local pack?
There are three main components for optimization:
1) The tech soundness of your website
2) A locally-focused content strategy
3) External links
Tech-Mobile first
Optimizing for mobile has been a key factor for ranking in general. However, the mobile user searching is quite different than your average desktop search. Mobiles searches also take into account a number of different criteria in order to rank such as:
Performance

Usability

Download speed

Screen rendering
A website that is appropriately optimized for mobile devices of all shapes, sizes, and operating systems will have a much better chance of ranking higher in mobile SERP. Keep in mind that a larger part of ranking on Google has to do with your website's performance relative to others.
Tech-Schema's geographic markup
Schema.org is a collaboration between Bing, Google, Yandex, and Yahoo! that lets you provide more detailed information so the search engines can understand your content; providing better search results
By adding Schema code to your site it enables the search engines to display more advanced information to the query — for example, star ratings, pricing information, or reviewer information.
Content-Google myBusiness Setup
The easiest and quickest step to conquering local pack ranking is creating a Google My Business profile takes five minutes.
When you set up your profile, Google then sends out a card to your business address containing a PIN which you use to verify the address.
Within a couple of days, you should see your business included on the map that Google displays when users in your area enter a search for your type of service.
It's extremely important that you fill out ALL the information that Google asked, including business category, services, products, and opening hours, since the more information that you can supply Google, the more likely it is to surface your business in local search results.
Content-Website
Make sure your home page and any other page containing information about your product and service reference your location in five key places:
1.Title tags
2.Headings
3.Body copy
4.Meta Descriptions.
5.Footer.
You can also add the location in the URL where relevant.
For example, if you are a real estate agent, with locations in different parts of New York, create three separate pages with three separate URLs, for example:
www.myrealestatepage.com/Soho-listings
www.myrealestatepage.com/UES-listings
www.myrealestatepage.com/Brooklyn-listings
Make sure each page has distinct content since duplications can cause a Google penalty.
Depending on your business you need to decide how big of a net to cast/
For some businesses (perhaps those offering goods and services in a very specific area) it will make sense to take a 'hyper-local approach — i.e., to use the town or suburb they are based in as a focus keyword.
For others, where there is perhaps less competition for the services they provide, or a desire to sell to customers in a slightly wider geographical area, it might make more sense to reference the name of a county or state in key parts of their site.
Content-Keyword choices
When creating your product descriptions and services the main consideration should be focused on the search queries.
For example, referring constantly to 'automobiles' throughout your website, when people are actually searching for 'cars' will yield zero results.
Use a keyword research tool like Semrush or Ahrefs to pinpoint the most popular search phrases for the businesses, and how difficult it will be to rank for them locally too.
Content-
Ask for reviews
Search engines rely on the content and in their eyes, there is no more reliable authority and relevance to a query than the presence of reviews. Reviews need to be part of the business process or marketing campaign. If you run a  dry cleaning business, what's 25% off your patron's next visit for a review. Aim for 30-40 reviews to start.
External links-Directories
From Google places to local directories, local links and user citations are the primary influences of high rankings for geo-specific terms. Local users go deep for information, so even small low-volume sites can result in quality links. They may not receive or provide lots of traffic individually, but a few links from relevant blogs can go a long way.
Submitting your sites to quality local directories can boost your position in search results. Since Google indexes directory entries, if the directory is reputable, it may return your directory entry in the top 5 results. This means that even if you are struggling to get a high ranking for your site, you may still get visibility for your business in search results.
External links-Local Coverage
A great strategy is approaching local news sites asking for coverage of your business (or content).
Depending on the approach they might provide you with a backlink. News sites, even local ones, have a level of authority because a lot of other sites link to them. This backlink can boost your position in search results.